We're happy to announce the release of a new Diagram type in D3M, Floorplan. The new Floorplan feature will allow you to showcase the physical location and coverage of devices (great for site surveys, coverage maps, etc.).
When starting a new project upload the floorplan or map you'd like to use. This can be a screenshot of a map, a blueprint from a customer or a floor plan.
Once you place an item on the Floorplan you'll have the ability to show coverage and viewing angles by double clicking the device's icon to open its properties menu. From there you can adjust the angle, colour and opacity of the icon's coverage area.
Here is how to use the Floorplan feature:
When creating a New Project select the Floorplan type
Upload a Floorplan or Map Screenshot
Place Icons on the Floorplan to show the location of devices
Show coverage and viewing angles (double-click)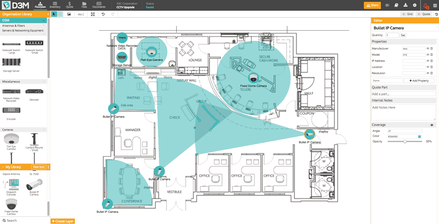 This feature is available to all D3M PRO users. If you'd like to upgrade to PRO click here. For any questions, feedback or requests please feel free to reach out and send us an email. We're always happy to help!
Happy Diagramming!

Note: For the time being Topology diagrams and Floorplan diagrams must be managed in separate projects. These will be merged into one project in the coming months.
Ability to set a scale on image upload
Ability to create connections and calculate distances
Ability to enable mapping in your D3M canvas