We've been hard at work to give you a better support experience, and it is our pleasure to announce the launch of our brand new D3M Help Center.
You can access the Help Center at http://help.d3mradios.com
Our goal was to create a single knowledge base full of the most common questions, features, and tools, to help support you better. Think of it as a library where you can ask questions, browse articles and get the answers you need to better design and manage your projects.
To browse the library of step by step how-to articles, tutorials, and guides, go to the Help Center in D3M from the menu in the top right of your screen.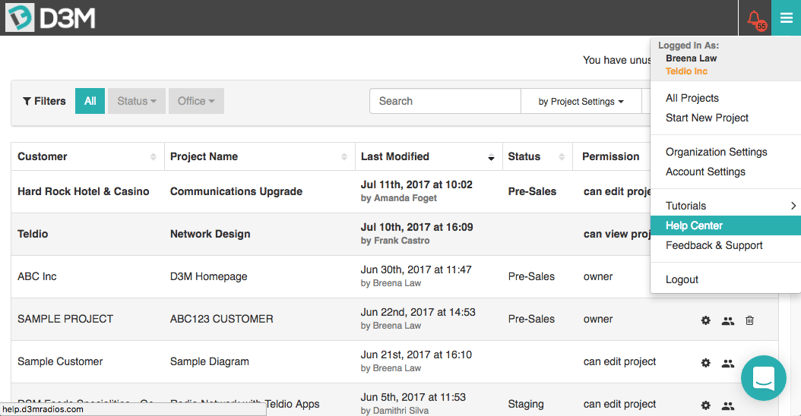 The Help Center has helpful articles tips on topics including:
Diagraming & Network Design Tips
Quoting & Parts Management
Managing Equipment Lists
Exporting Data & Projects
Organization Settings
Troubleshooting
Privacy Policy
​
Couldn't find your answer?
There may be a rare occasion where your search query will come back blank or produce a different result from what you expected it to. Our Support Team is still available via chat and we'll get back to you right away. Simply click on the speech icon in the bottom right corner and ask away.
We hope this Help Center improves your overall D3M experience. And as always, please don't hesitate to reach out and let us know how we can help you better use D3M or if you have any questions, ideas or requests!
Cheers,
The D3M Team