We're happy to announce the release of a new diagram type in D3M, Floorplan. The new Floorplan feature will allow you to showcase the physical location and coverage of devices (great for site surveys, coverage maps, etc.)
Where to Find Floorplan Diagrams
Floorplan diagrams can be found in between the Topology and Rack diagrams in the top menu of D3M. Simply select the Floorplan tab and you will be brought to a page where you can begin creating your diagram.
From here you will be asked to upload your floorplan image (a map, blueprint, floorplan, etc.) by click ADD FLOORPLAN. You can upload any image file you wish (png., jpg., etc.) You can then name the floorplan and lock it into place by right-clicking the image and selecting Lock, this ensures your image won't move while you are placing icons on top.

Adding Devices to Your Floorplan Diagram
Once your floorplan is locked in place you can begin adding your devices. To add devices onto your floorplan you simply drag and drop them from the icon library as you would in both the Topology and Rack diagram views. You will notice that the icons will appear within a blue circle, this is to help them stand out against the floorplan image.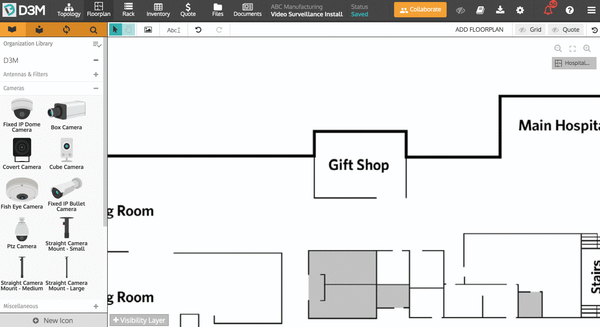 Enabling the Video Surveillance Icon Library
With the new addition of the Floorplan diagram, you may want to enable the Video Surveillance icon library. To do so go to Admin Settings > Library > Library Management and select Video Surveillance and the icon library will now be live for all users in your D3M organization. Please note, you either need to be an Admin to make this change or ask an Admin to do so for you.
Showing Device Coverage and Viewing Angles
Once you place an item on the Floorplan you'll have the ability to show coverage and viewing angles by double-clicking the device's icon to open its properties menu. To show the coverage angle on the floorplan diagram click the eye icon in the Icon Editor. Here you can also adjust the angle, colour, and opacity of the icon's coverage area, as well as adding quote parts and adding and removing properties.
To increase or decrease the coverage zone select the coverage area and double-click and drag the diamond to extend the coverage and double-click and drag the circles to increase/decrease the width of the coverage.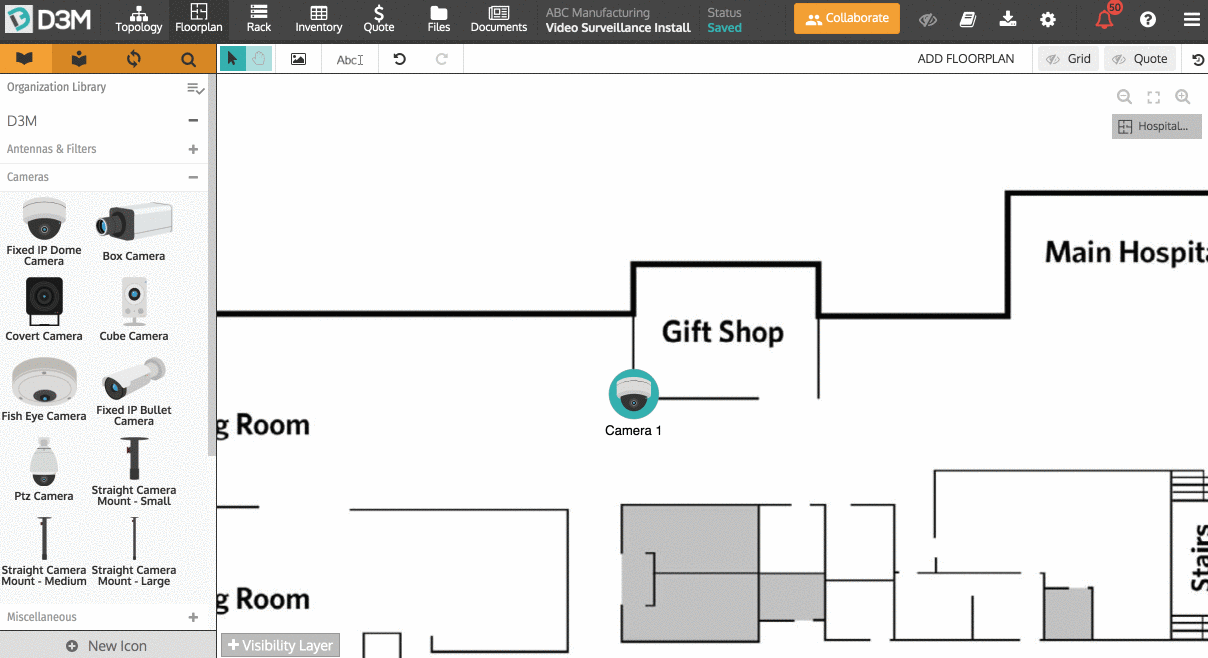 Adding Floorplan Diagrams to Documents
Adding floorplan to your documents works the same way as adding Topology and Rack diagrams. Go to the Documents tab, create a new document (or open an existing one), click and drag Insert Floorplan from the left-hand menu and drop it wherever you would like it to appear in the document. From here it functions the same as Topology and Rack diagrams within a Document.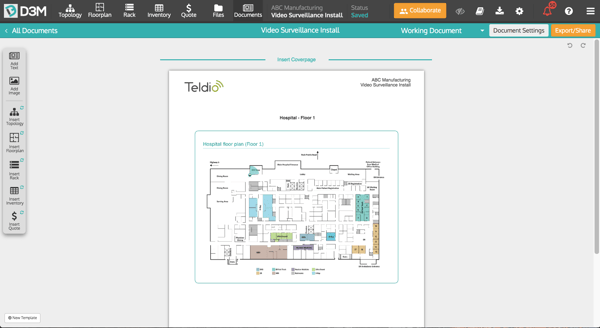 This feature is available for all D3M users. For any questions, feedback or requests please feel free to reach out and send us an email.
How to Get Started with D3M