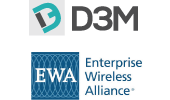 Ottawa, ON – October 3, 2016
Teldio and the Enterprise Wireless Alliance (EWA), the leading national association for enterprise wireless users, announced a strategic partnership targeted at benefitting all EWA members.
D3M, Teldio's industry leading network design and management application will be offered to all EWA members at a discounted rate on new subscriptions.
"We are thrilled to come together with an organization that shares our passion for technology and innovation in the wireless communications industry," said Bob McCook, Co-Founder of Teldio and Director of Business Development & Partnerships for D3M. "It is a natural fit for us to come together and support users in the deployment of wireless communications solutions."
Since 1953, EWA has provided its members – business enterprise wireless users, manufacturers, resellers and service providers – with access to a variety of spectrum management services. Adding this partnership with D3M, an intuitive, cloud-based web application that helps users better design and manage networks, project proposals and customer deployments will bring even greater value to all EWA members.
"To expand benefits to our members, EWA is developing relationships with strategic partners. It is with great pleasure that we welcome D3M to the Enterprise Wireless Alliance community," said Sarah Beerbower, Executive Director, Marketing and Membership at Enterprise Wireless Alliance. "Innovative technologies such as D3M help modernize the industry and simplify wireless deployments."
EWA members have access to the knowledge and influence of experts in matters of wireless spectrum and technology and now as an added value, they will receive a 20% discount on new D3M subscriptions. If you are interested in learning more about this opportunity please contact EWA Member Services at membership@enterprisewireless.org for more information.
About Teldio
Teldio is an established two-way radio applications developer. The company helps ensure greater employee safety, security, and situational awareness by providing cost-effective telephone interconnect, radio recording, alarm management & notification, lone worker monitoring and indoor/outdoor positioning solutions. In 2014, Teldio introduced D3M; a web application designed specifically to help manufacturers & their dealers better Design, Document, Deliver & Manage two-way radio networks.
About the Enterprise Wireless Alliance
The Enterprise Wireless Alliance is an FCC-certified frequency advisory committee and leading advocate for business enterprises that rely on wireless communications systems. EWA provides its members and clients with license preparation, spectrum management and associated services. Membership in EWA is open to users of wireless communications systems, vendors, system operators and service organizations. EWA is the creator of Cevo®, a powerful frequency coordination portal, which includes the industry's first mobile app for frequency inquiries. Additional information about membership and services is available at www.enterprisewireless.org.