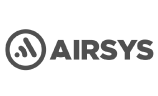 Airsys is celebrating 25 years of trading by inviting their top sellers out for a dealer day this coming Thursday, June 29th, 2017. The show will be held in the United Kingdom at the beautiful Heythrop Park Resort in Warwick. The D3M team is happy to announce that Ken Dumont, our VP of Business Development, will be attending and participating with key dealers. Ken will be presenting our industry-leading network design, quotation, and management tool, D3M. Throughout the presentation, he will be highlighting its many features, while answering any questions about the tool and its functionalities.
D3M is proud to have a strong, established relationship with Airsys as a distribution partner and longtime user of D3M. Airsys has played a key role in D3M's introduction to a larger audience of radio resellers throughout the industry. Our team looks forward to demonstrating how D3M can help to better design, document, deliver and manage your two-way radio networks. Be sure to stop by and see how the application works, along with its associated benefits for both you and your customers.
We look forward to seeing you there!
The D3M Team