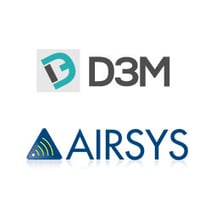 Ottawa, ON – Monday, March 27 – Teldio, a leading two-way radio applications developer today announced that it has signed an agreement with Airsys Communications Technology to deliver D3M, an industry-leading network, design, quotation, and management tool.
As the UK's leading distributor of two-way radios, accessories and network equipment; Airsys will play a key role in introducing D3M to a broad audience of radio resellers across the industry.
"We are very excited to add Airsys as a new distribution partner. Their long-term commitment to D3M and comprehensive distribution experience are the perfect complement to promote D3M adoption throughout their dealer network," said Carl Carruthers, CEO of Teldio. "Airsys' experience with D3M and commitment to enhancing customer service and support has already proven to be a valuable asset as we continue to enhance our industry-leading SaaS platform. We look forward to building and strengthening our relationship with Airsys moving forward."
Airsys has a history of delivering first-class digital radio solutions to their broad-ranging dealer network for 25 years. "Adding D3M to our portfolio of services allows us to further improve our commitment and support to our partners and in turn their end users. We aim to provide the highest level of support possible at all stages of engagement," said Tom Grady, Technical Services Executive. "We are focused on bringing D3M's user-friendly superior technology to our resellers. Using this tool will help support their initiatives throughout their pre-sales, post-sales, and technical services process. Our resellers will benefit greatly from this industry-leading application."
About Teldio
Teldio is an established two-way radio applications developer. The company helps ensure greater employee safety, security, and situational awareness by providing cost-effective telephone interconnect, radio recording, alarm management & notification, lone worker monitoring and indoor/outdoor positioning solutions. In 2014, Teldio introduced D3M; a web application designed specifically to help manufacturers & their dealers better Design, Document, Deliver & Manage two-way radio networks.
About Airsys
Established in 1992, Airsys is Europe's most successful value-added distributor of two-way radio, accessories and network equipment. With 25 years of experience, Airsys delivers true value-added by providing technical, sales and marketing support, efficient logistics throughout their dealer network. Holding distribution agreements with high-quality manufacturers in the European market, Airsys offers the widest range of products in the industry. Committed to service excellence and unrivaled product choice, Airsys' top priority is a fast and reliable service.