Generating quotes isn't easy for complex products and intricate networks. Often overwhelmed by the sheer number of products and choices, what connects to what and typical quoting woes, sales reps take months to come up to speed with products and tie up precious engineering resources. That's where CPQ software, like D3M comes in!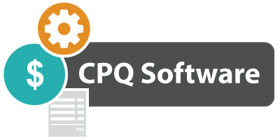 Defined by Gartner, the world's leading information technology research and advisory company, Configure Price Quote (CPQ) software supports and streamlines the configuration, pricing and quote generation activities that accompany complex solution selling. CPQ software typically includes pricing engines, proposal generators, quoting systems, and rules or constraint engines, and are complemented by approval and authorization workflows.
CPQ software and cloud-based applications are a growing industry trend that aims to make sales teams more productive, reduce the time to quote cycle and limit errors in complex industries requiring difficult and non-repetitive sales proposals. That means shorter sales cycles, higher win rates, and more satisfied customers. Sounds like a win-win, right?
Companies that use CPQ software can almost guarantee that their team is quoting the right products at the right price and producing professionally branded proposals and contracts all day, every day. Here are the top benefits of introducing CPQ into your sales process:
Shortened Sales Cycle
When someone asks for a quote or a revision, they mean NOW! Before CPQ, it was a tedious and monotonous process to create a new quote, get back to the customer and continue negotiations. Now you can deliver a quote in real-time right at your meeting with the customer!
Accuracy
CPQ software arms your sales team with pre-established, automated pricing and configuration models that make it quick and easy to churn out accurate quotes and proposals for complex networks. By defining the rules and processes with CPQ software, long gone are the configuration, quoting, pricing and contract errors that occur with manual procedures.
Increase Sales & Customer Engagement
By automating time-consuming configuration and pricing processes, CPQ software helps sellers spend more of their time with customers. As a result, your team will be able to meet with more leads in a day and identify more sales opportunities.
Enhance Productivity
With CPQ handling all product and pricing rules, engineering, product management, sales engineers, marketing, and management can take a step back from the quoting process. CPQ applications empower your reps to quote and close deals on their own.
Increase Average Deal Size
Sales reps, new and old, get in the habit of always selling the same solution. With the implementation of CPQ, you'll benefit from a more effective sales team that increases deal size through cross-selling and up-selling. No longer is money left on the table.
The fact is, companies using Configure Price Quote tools receive significant benefits over their non-CPQ-using competitors. Gaining visibility and control over how your solutions are configured, priced and quoted, CPQ software will immediately affect revenue growth, customer experience, and overall sales team happiness. Unlock your potential by adopting a CPQ tool today!
D3M's application takes a unique approach to CPQ by basing system quotes on technical diagrams. Find out more about D3M's CPQ application with a live demo.