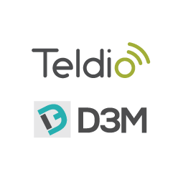 Ottawa, ON - July 2, 2015
Teldio announced today the creation of a new division of the company focused on its industry first radio network design and management application, D3M. The corporate restructuring was done in an effort to better capitalize on the growing excitement and industry adoption of D3M and to continue to drive innovation in the two-way radio applications division of the company.
"This strategic realignment will better position us for exciting growth opportunities in both the two-way radio applications and network design & management sectors. We will continue to operate as one corporate entity, but this division will allow our team members to better focus on their respective divisional objectives," said Carl Carruthers, CEO of Teldio.
To date, Teldio's core business has focused on the development of advanced two-way radio voice & data applications that improve worker safety, efficiency, and situational awareness while reducing costs. Solutions include radio to telephony communication, automated alarm management, lone worker monitoring, as well as indoor & outdoor positioning apps. The recent introduction of wireless panic buttons to Teldio's portfolio is also part of its overall growth plan, with special focus on expanding its penetration within the education sector.
With its foundation as an application developer, Teldio understood the challenges associated with managing two-way radio networks. This led to the development of D3M, an intuitive, all-in-one, cloud-based web application that helps manufacturers, app developers and resellers better design, document & manage networks, project proposals and customer deployments.
"As the wireless industry continues to evolve and network complexity and interoperability becomes the standard, toolsets that integrators and manufacturers use to design, document and manage networks must evolve at the same pace," said Bob McCook, Co-Founder of Teldio and Director of Business Development & Partnerships for the D3M division. "The feedback and growth in terms of user adoption we've experienced over the last six months have clearly validated this."
D3M is rapidly being adopted throughout the two-way radio industry by both large national and regional resellers, as well as more localized dealerships. The recent addition of automated sales proposal generation has allowed dealers to further improve productivity and streamline the selling process. With its continued focus on innovation, Teldio foresees growing opportunities for D3M adoption by system integrators, manufacturers, and application developers both inside and outside the two-way radio sector.
Hiring within both divisions throughout the United States and Canada is underway supporting current and planned growth.
Teldio also announced the promotion of Jeff Smith to Director of Sales of the two-way radio core applications division where he will play a key role in channel development and the company's overall growth.
"There is much work to be done, but the Board and I believe this new corporate structure will be an important milestone for Teldio and allow both divisions to recognize their full potential, driving focus, innovation and revenues." said Chairman of the Board, Terry Mathews.
About Teldio
Teldio is an established two-way radio applications developer. The company helps ensure greater employee safety, security, and situational awareness by providing cost-effective telephone interconnect, radio recording, alarm management & notification, lone worker monitoring and indoor/outdoor positioning solutions. In 2014, Teldio introduced D3M; a web application designed specifically to help manufacturers & their dealers better Design, Document, Deliver & Manage two-way radio networks.