Creating custom resources is easy with D3M. Don't know where to start? Here are a few resources and tips to get you started.
D3M Bonus Package
We've created over 30 icons to add to your D3M library. From simple HVAC and pump icons to Teldio apps, there's plenty to choose from. Download bonus pack.

Google Images
Google has the most comprehensive image database on the web. It's the place to go when you're looking for that super-specific brand name item or rare piece of equipment.
Here are some tips for using Google Images with D3M:
Go to images.google.com to ensure that all your results are images
Type 'icon' after the word you're looking for to get a simplified image. For example, instead of typing 'PBX', try 'PBX Icon' and you'll receive more symbol-like images to choose from. [See A]
To ensure that there is no background color on your image, look for PNG files (Portable Network Graphics). You can even add this into the search field. [See B]
Filter and customize your results by using Search Tools at the top of the results page. Sort images by size, colour, type, time and usage rights* [See C]
Use the Advanced Search tool. In the top far right corner of the browser, click the little gear icon and choose Advanced Search. You'll be able to filter your results by size, ratio, colors, site domain and safety (SafeSearch). [See D]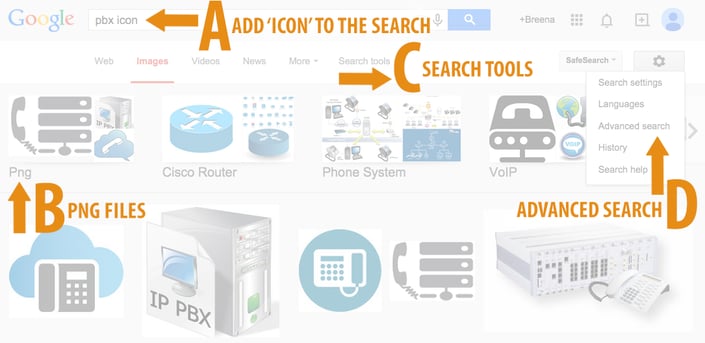 *Please note that when you find an image through Google, you'll need to check the website it is from to determine whether or not it is free to use.

Icon Finder
Choose from over 340,000 premium icons at Icon Finder. You'll find everything you need from free one-color icons to more complex images starting as low as $1. Make sure to download the PNG version!

Icon Archive
Icon Archive is a professional database with more than 550,000 icons. Search by color, size or style. Download free images or purchase an entire icon set to revamp your whole graphic library.

Get in Touch with us
If you like the look and feel of the icons currently available in your D3M library, we can whip up something special just for you. Contact us, and we'll do our best to help out!