Configure Price Quote (CPQ) software and applications help sales representatives quote complex configurable products. Aiming to make sales teams more productive, reduce the time to quote cycle and limit errors in industries requiring complex sales proposals, CPQ software streamlines and simplifies the sales process. To find out more about traditional CPQ software applications and their benefits, read our earlier post here.
Two-way radio organizations are perfect candidates for CPQ software because the industry deals with its intricate combinations of product and service offerings. That's where D3M's web app comes in!
Originally designed for the two-way radio industry and expanding into other markets, including the telecommunications space, D3M's application takes a unique approach to the concept of CPQ software. By basing system quotes on complex technical diagrams and configurations, D3M is Diagram Price Quote software or DPQ for short.
D3M empowers sales reps to generate accurate and professional system diagrams based off their customers' requirements (and the approval of their technical team) and then automatically generates a budgetary quote and giving them confidence the system will be priced to spec.
By turning on the Quoting function in the Diagram, sales reps can visually understand what has or has not been included in their quote and quickly determine what might be missing at a glance. Here's a quick preview: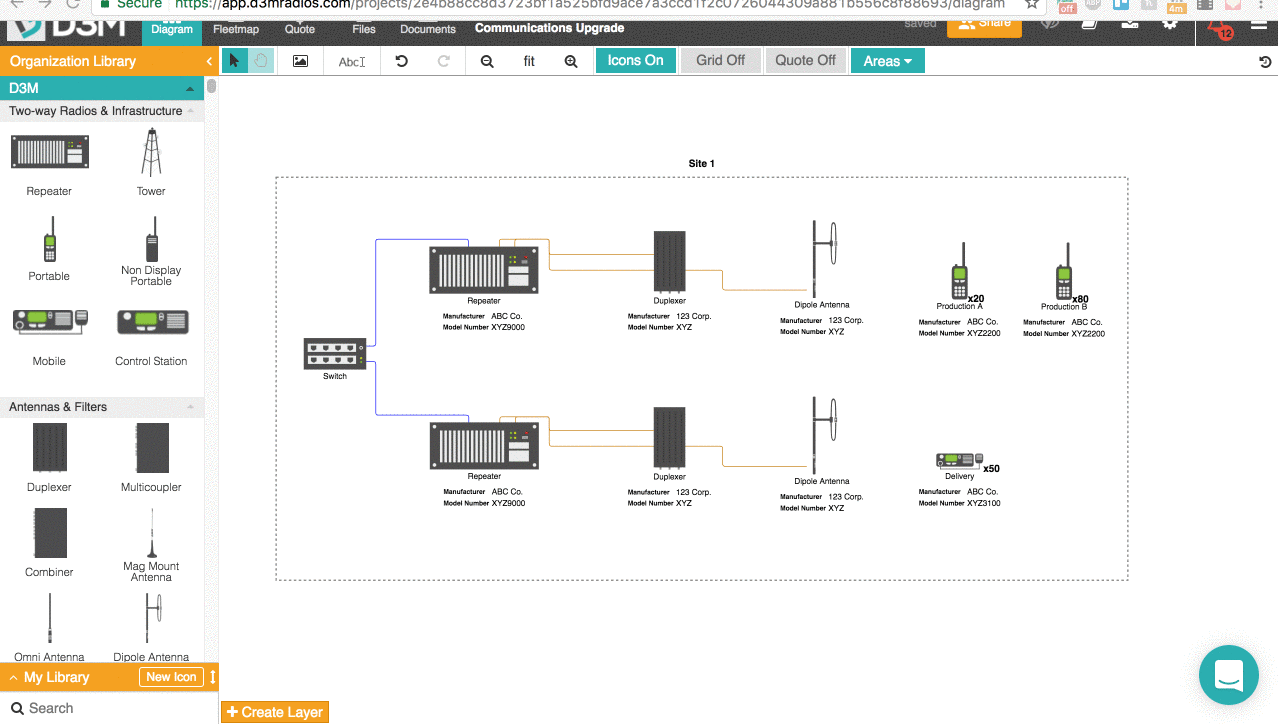 D3M keeps your technical and sales teams on the same page from the beginning of the sales process through to the end. Using one common tool goes a long way in ensuring your company's success during the lifecycle of your projects. By using D3M's Quote Tool your team can expect:
Faster & more efficient quoting
Reduced errors in missed or wrong equipment on quotes
Better communication between Sales & Technical Teams
Professional proposals & documents
Centralized pricing information
D3M is a complete solution that streamlines sales—from inquiry to order. Easy to use, on any device, any place, anytime, it will transform your sales process so you can sell more, faster, and deliver a superior customer experience.
SCHEDULE A DEMO TODAY!