If you haven't been making the most of D3M, now's the perfect time to get reacquainted. We've rolled out some great new features – all designed to help you better design & manage your two-way radio projects. See what's new to D3M today.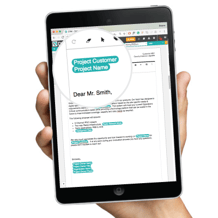 Dynamic Placeholder Text
We're happy to announce that it's now simpler than ever to autofill your document templates with our new dynamic placeholder text feature. Making it faster and easier for your team to put together Sales Proposals, SOWs, Installation Guides & more, your documents will automatically update project settings such as the Customer Name, Project Name, Radio Network Mode, & Deployment Date throughout your documents.
Quote Tool Currencies
Quoting a radio network in England, Mexico or Australia? No problem. Now supporting over 150 different currencies, the D3M Quote Tool has got you covered!

Customize Page Sizes
Looking to print or share PDFs of your documents in a different size other than letter? Well, now you can! Easily change the page settings from letter size to legal, A3 & more.

Want to learn more about D3M & its new features?
Sign up for a demo today!