Over the past year, there have been many changes within D3M, from new features to the look and feel of the tool. Our team is constantly striving to improve D3M and its functionalities based on your feedback.
Here's a highlight of some of the coolest features of 2018!
Quick References:
Rack Diagrams
You now have the ability to document the physical layout of devices on a rack in D3M, avoiding costly mistakes and better equipping your techs during the install process.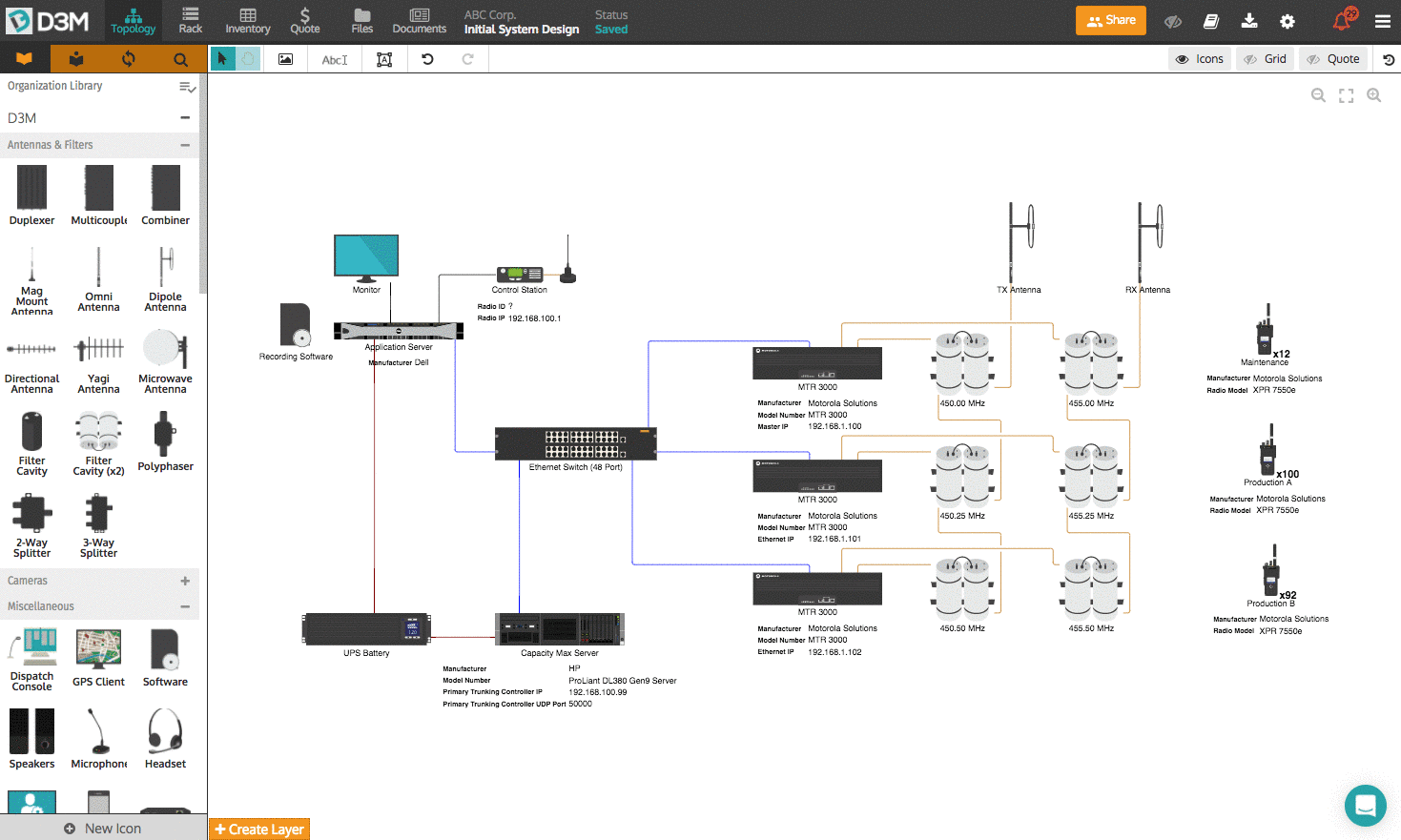 Smart Quoting
As you utilize D3M to quote your systems, the app will learn your preferences and start automatically quoting networks for you. It associates your most commonly used quote parts with icons and learns as you use it!
Learn more by watching the Smart Quoting webinar!
Quoting Connections
You can now quote connections between devices, allowing you to calculate the cost of cabling on your network design. Simply double click the connection to access the Link Editor where you can add a quote part. You can also add multiple quote parts and edit the quantity of those quote parts (for example 142 FT of COAX cabling with 2 male end connectors).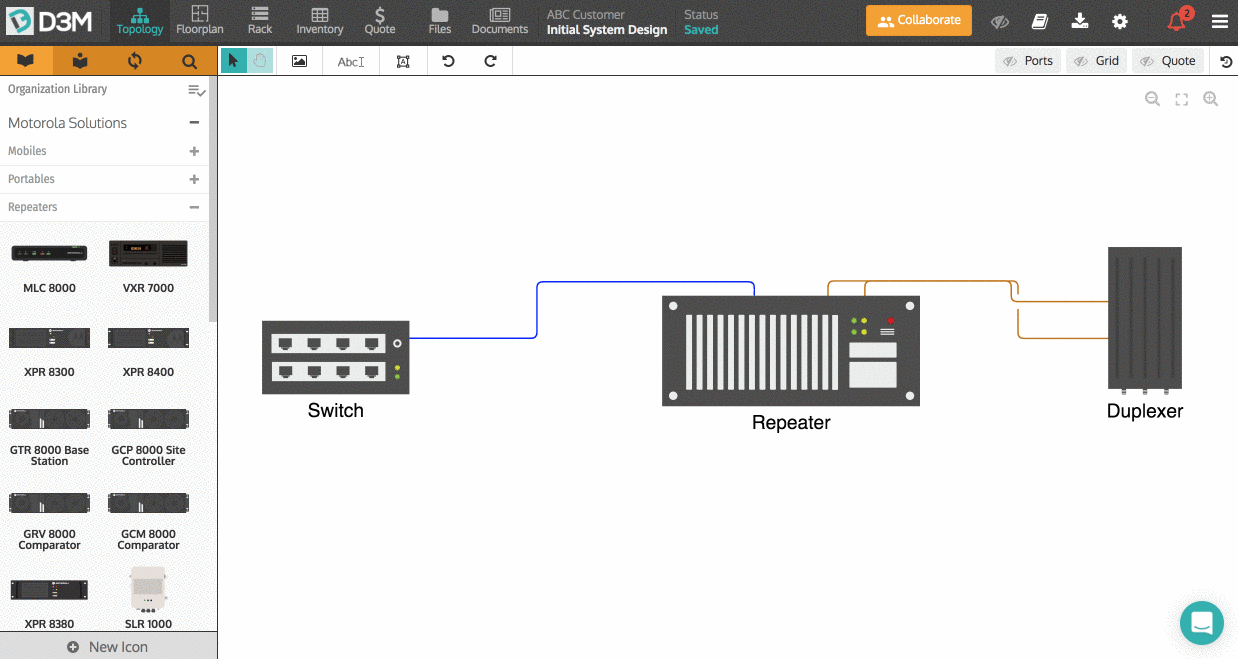 Icom & Hytera Co-op Eligibility
D3M is now both an Icom and Hytera Co-op eligible solution! If you are an Icom dealer you can now claim reimbursement for up to $2,000 (the cost of a 5 user plan!) towards your D3M subscription, and all Hytera dealers now have the ability to claim reimbursement for 50% of the cost of their D3M subscription under the Hytera Co-op Policy.
Free Single Project Plan
You can now start your first D3M project for free forever, no strings attached, no credit card required. You'll have full access to D3M and all of its features with the ability to create 1 project and upgrade at any point if you wish. Get started now!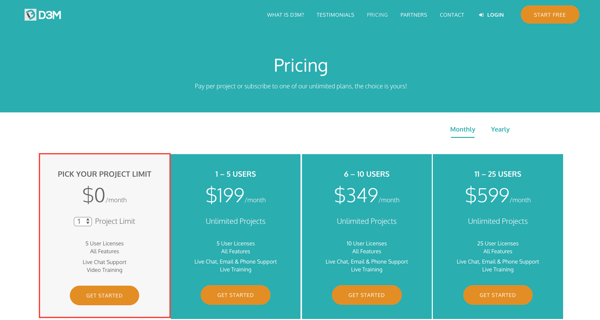 Google Single Sign-in
You can now easily sign-in to your D3M account using your Google account with our single sign-in option. This makes both signing in and signing up an easier and smoother process.
Training Webinars
This past year we introduced D3M training webinars which are held on a regular basis and cover a variety of topics. You can see all past training webinars here. Watch your email to join us for our next training webinar!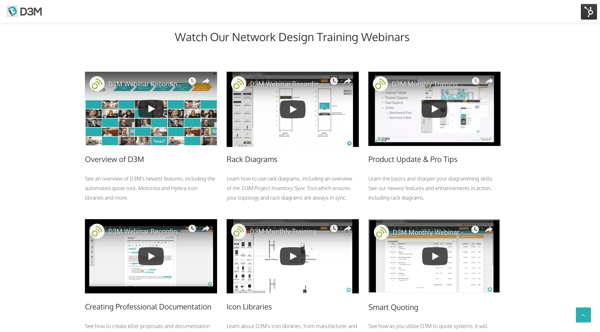 Document Templates
D3M now comes pre-loaded with document templates to help you easily create and edit your desired documents. Our document templates include a Sales Proposal, Network Diagram Template, System Quote Template, Statement of Work Template and a Proposal Template. To access these document templates simply go to Documents, select Create A New Document and select your desired template.

New Icon Library with Improved Search
We have updated the look, feel and functionality of our icon library. You can now easily select the library you want to see in your icon library, as well as the icon size (small, medium or large) and the order (by manufacturer or category). The library search functionality has also been improved, making it easy for you to quickly find the icon you need.
Improved Link Reshaping
In 2018, we improved the ability to reshape connections within D3M. This allows you to choose exactly where you would like the connection to be placed. You can easily move it up, down, right, left and create angles along any connection you wish.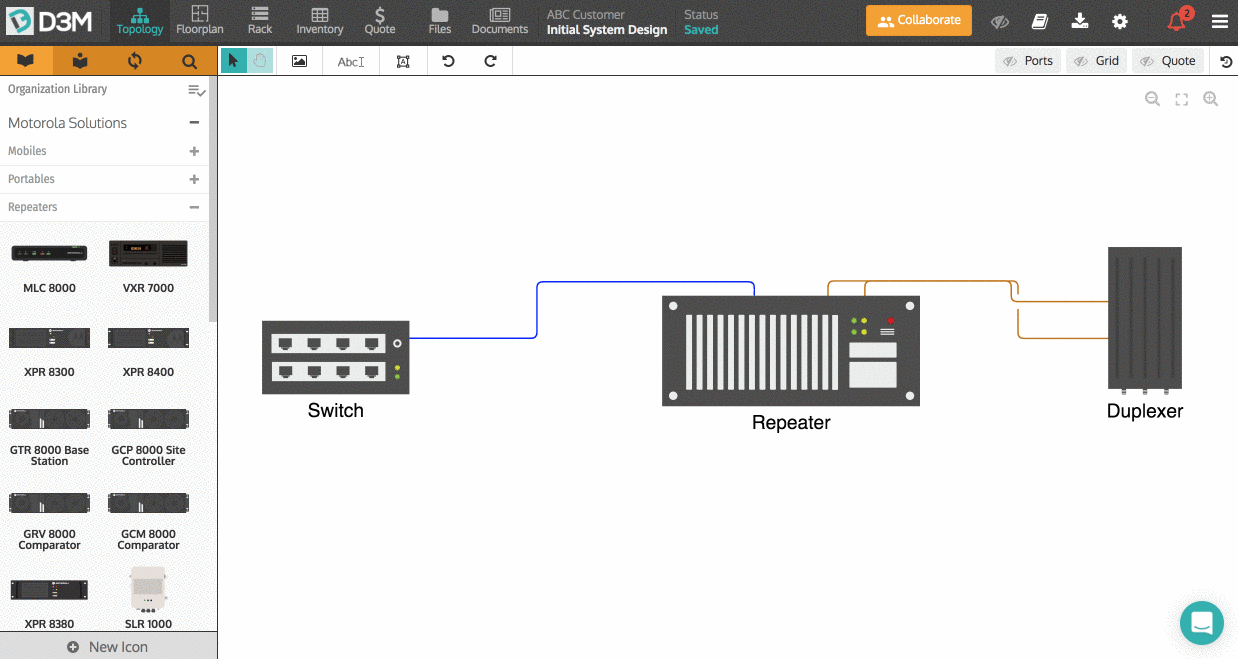 Access to All Icon Libraries
You now have access to all D3M icon libraries, from generic to manufacturer. To choose which icons you would like to have access to go to the hamburger menu in the top right corner, select Admin Settings, select the Library tab, select the Library Management tab and select the libraries you wish to use within your D3M account. If you are not an Admin simply ask your Admin to enable the libraries you need.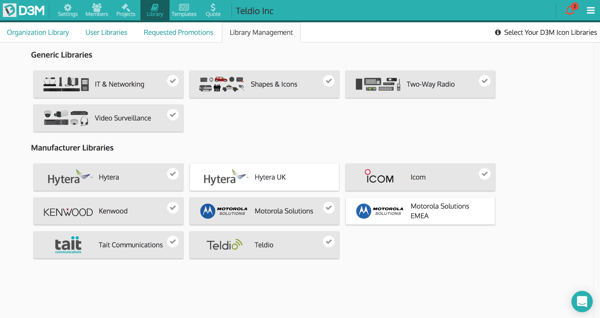 Filter Projects by Customer
Easily find projects for one specific customer with our new ability to filter based on a customer name. To filter by customer type the customer name into the search bar on the Projects page and select the customer from the generated dropdown list, from there all projects related to that customer will be displayed.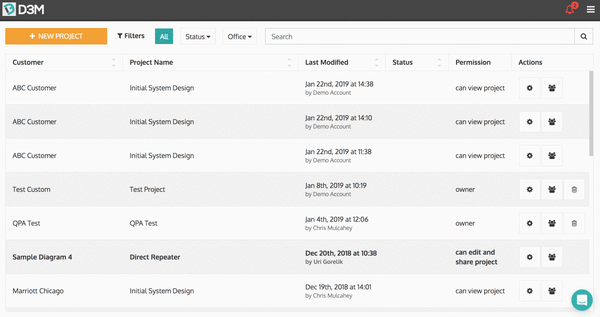 Move Icons Forwards/Backwards
Easily move icons to the front or back of your diagram, ensuring icons are placed exactly as you'd like. To move the icons frontwards/backwards select the icon, right-click, and select either Send To Front or Send to Back.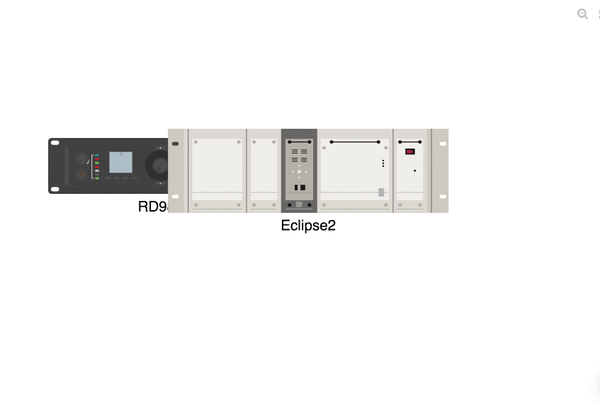 It has been a busy year here at D3M, but we have plenty more planned for 2019! As always please feel free to reach out with any features you would like to see this year.
See our 2019 updates. To see all these features in action login to you D3M account or start for free today!